Beginning March 1st, Higher Hangers went live with their startup crowdfunding campaign.
We built a closet with a special trap door to pull Rebecca through.  It was a fun video to create.
Higher Hangers are the original (and possibly the only) vertically space-saving hangers. They can create 11 cubic feet  of new closet space.
When Drew Cleaver first explained to me the idea of Higher Hangers, I immediately loved it.  I had never thought about the problem of too little space at the bottom of my closet, but after seeing these, I knew the problem has been there all along.  I love this sort of brilliant simplicity – the solution to an obvious problem that I hadn't even considered.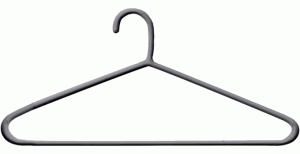 "For nearly 150 years, clothes hangers haven't changed their general shape. Higher Hangers were 
born out of necessity in a college dorm room
 to maximize space while retaining the same functionality as regular hangers, including collared shirts. Many closets only have 1 hanging rod, and 
Higher Hangers can make enough difference to allow a second closet rod
."  – From Higher Hangers crowdfunding campaign
http://kck.st/1SdfGfN
We got to experiment a lot with Higher Hangers while shooting the commercials.  At first, I was wondering how well the collared shirts would fit, being so snug up against the closet rod.  There was a couple times while throwing a shirt on the hanger quickly, that the collar did bump up against the rod, but after a 2 second adjustment, it was fine.
And after replacing an entire closet with the hangers, it was clear to me that not only did the collared shirts fit fine, but the space at the bottom of the closet was improved.  That's not all though, the velvet lining and the thinness of Higher Hangers also improve the overall closet experience.
I'm personally excited to be replacing my entire closet with Higher Hangers.  I'm not just shouting my praise because Higher Hangers is a client, I'm also a fan and a customer.
To jump on board with Higher Hangers at a discount, you have to act fast.  The perks to buy Higher Hangers at a discount are almost gone.
Above is a video about getting my own Higher Hangers!